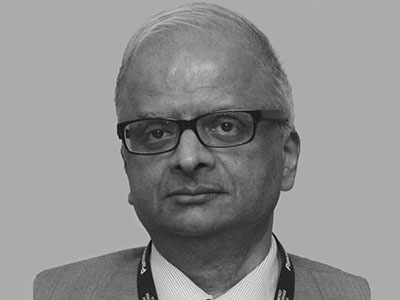 Ravi Seethapathy
Executive Chairman, Biosirus Inc., Canada Board of Directors – Smart Grid Canada / India Smart Grid Forum
Biography
After a 35+ year career in Electric Utilities and Power Systems area, Ravi Seethapathy is now an Advisor to the Utility/Industry and sits on the Boards of Smart Grid Canada, India Smart Grid Forum, and Biosirus Inc. His current international technical activities include (1) Cigre Convener WGC6.28-Remote Islanded Grids; (2) IEA PVPS Taskforce 14 – Large Scale Solar Integration; (3) IEC TC 120 – Energy Storage; (4) IEC SEG4-LVDC; (5) India Smart Grid Forum – Member, Urban EV Mobility Study;  and (6) India Smart Grid Forum- Chair WG9 (Renewables and Microgrids).
He is an invited speaker in the international Smart Grid area having co-authored over 50 technical papers. He is also mentors/Chairs a small technology company Biosirus Inc. (engaged in Energy Efficiency, Pico/Nano/Microgrid and other select leading technologies globally). Retired in 2014 after 31 year career in a leading Utility in Canada where he managed leading portfolios in R&D, Innovation, Smart Grid Projects, Energy Storage, Renewable Energy Integration, and Asset Management. His Past Corporate Directorships include Toronto Atmospheric Fund, Ryerson University, TV Ontario, Scarborough Hospital, Nevaro Capital Corp, Engineers without Borders (Chair), Canadian Club of Toronto (President), Indo-Canada Chamber of Commerce (President).
He has received numerous honours and citations including Queen Elizabeth Diamond Jubilee Medal (2012), Fellow Canadian Academy of Engineering (2012), Hydro One President's Award (2008), Honour Roll of the Shastri Institute (2008), Honorary Fellow, Centennial College (2005), Indo-Canada Chamber of Commerce (1996) to name a few. His education includes a B. Tech (Hons) in Electrical Power from IIT, Kharagpur, India; an M. Eng. in Electrical Power from the University of Toronto; and an MBA from the Schulich School of Business, York University. He together with my family has endowed an IEEE Award in "Rural Electrification Excellence".
All session by Ravi Seethapathy