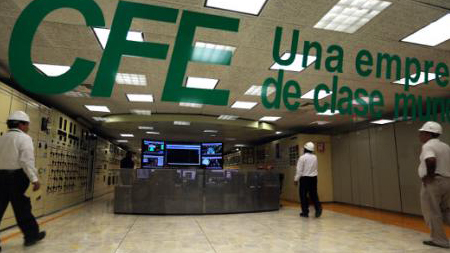 MEXICO'S CFE LAUNCHES 5-YEAR BUSINESS PLAN
Mexico's state utility CFE has presented its five-year business plan as it aims to modernize and expand the grid and continue to reduce energy losses.
The 2017-21 plan, which has been approved by CFE's board, outlines total investment of 256bn pesos (US$13.7bn), and includes partnerships with the private sector, according to a statement.
The company plans to invest 168bn pesos in generation to increase capacity by more than 8GW, up 14% on end-2016, as well as boosting efficiency of its existing power stations through modernization and maintenance, for which it will seek private investment.
Investment in transmission lines will total 40bn pesos, of which 27bn pesos correspond to investments already under way, while 48bn pesos will be invested in distribution, including modernization and the development of a smart grid.
The goals involve a reduction in CFE's operating costs by 21%, saving 22bn pesos.
The utility also plans to consolidate its new operating model and structure with its 13 subsidiaries and affiliates – a result of the 2014 energy reform – as it participates in the newly created wholesale power market.
CFE also aims to reduce technical and non-technical losses and maximize operational efficiency.
The company announced in February it made an 85.5bn-peso profit in 2016, turning around a 93.9bn-peso loss in 2015.