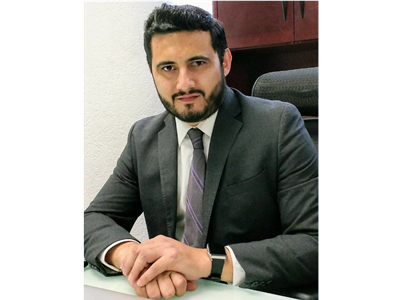 M. Eng. Héctor Aguilar Valenzuela
Head of Department, Distribution Comisión Federal de Electricidad(CFE)
Biography
Engineer in Electronics Graduated from the Technological Institute of Sonora, Master of engineering in Electrical Power Systems by National Autonomous University of Mexico, since 2010 he has been working at CFE as a Distribution Automation Office Manager of Mexico Center Valley Division; currently he serves as head of department in Coordinating Distribution.
LECTURES AND PAPERS DELIVERED
CIGRE (International Council on Large Electric Systems) Results of applying a semantic interoperability strategy in Smart Grid applications for DSO in Mexico A. ESPINOSA, S. GONZALEZ, H.R. AGUILAR, 2016 Paris France.
THE WSEAS (The World Scientific and Engineering Academy and Society) Transactions on Computer (Index Magazine) paper:
"CIM-Based System for Implementing a Dynamic Dashboard and Analysis Tool for Losses Reduction in the Distribution Power Systems in México" Julio 2015. "CIM-Based System for Implementing a Dynamic Dashboard and Analysis Tool for Losses Reduction in the Distribution Power Systems in México", M. Molina-Marin, E. Granados-Gomez, A. Espinosa-Reza, H. R. Aguilar-Valenzuela, (WSEAS Transactions on Computers, ISSN/EISSN: 1109-2750/2224-2872, Volume 15, 2016, Art. #3, pp. 24-33). Available in: http://www.wseas.org/multimedia/journals/computers/2016/a065805-1002.pdf
"Semantic Interoperability for Historical and Real Time Data Using CIM and OPC-UA for the Smart Grid in Mexico", A. Espinosa-Reza, M. L. Torres-Espindola, M. Molina-Marin, E. GranadosGomez, H. R. Aguilar-Valenzuela, (WSEAS Transactions on Cumputers ISSN/E-ISSN: 1109-2750/2224-2872, Volume 15, 2016, Art. #1, pp. 1-11). Available in: http://www.wseas.org/multimedia/journals/computers/2016/a025805-1001.pdf
CIGRE (International Council on Large Electric Systems) Buenos Aires Argentina in 2011 with the paper "Modernization of the power grid of the downtown of Mexico City"
IEEE (Institute of Electrical and Electronics Engineers) Acapulco Guerrero, ROCC´12 (Autumn Meeting communications and control). In 2012, paper "First steps towards smart grids in the Valley of Mexico"
IEEE (Institute of Electrical and Electronics Engineers) Acapulco Guerrero, RVP´13 (Summer Meeting power). 2013 paper "Effects of short-circuit current and containment in the grid of the city of Mexico"
CIM (International Conference on Mechatronics) Obregon Sonora, November 2013 conference "Current Trends in the Electric Power Systems, A Skyline Opportunities for Mechatronics Engineers"
IEEE-SRI (Smart Grid Seminar) Cuernavaca Morelos, April 2014 conference "Challenges In the Implementation of Smart Grid in Distribution Division Valley of Mexico"
IEEE-SRI (Smart Grid Seminar) Cuernavaca Morelos, March 2015 conference "Tangible Results and New Opportunities in the Integration of Technology for Smart Grid Systems in Distribution"
All session by M. Eng. Héctor Aguilar Valenzuela
14:00-14:25
NH Collection Mexico City Reforma Hotel
11:00-11:30
NH Collection Mexico City Reforma Hotel